Make in India is an ambitious initiative launched by the Government of India in 2014 with the aim of transforming the country into a global manufacturing hub. This campaign seeks to promote domestic manufacturing and attract foreign investment by creating a favorable business environment, streamlining regulations, and encouraging innovation and entrepreneurship. The Make in India initiative focuses on 25 key sectors, including automobiles, electronics, textiles, pharmaceuticals, and renewable energy, among others, with the goal of boosting job creation and driving economic growth.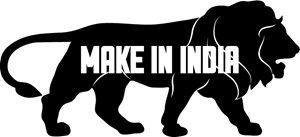 One of the key objectives of Make in India is to enhance the country's manufacturing capabilities and reduce dependence on imports. By encouraging domestic production, the initiative aims to strengthen India's self-sufficiency in various industries and promote the export of Indian-made goods.
The campaign also emphasizes skill development and training programs to equip the workforce with the necessary technical skills, further contributing to the growth of the manufacturing sector. Overall, Make in India serves as a catalyst for India's economic development, fostering innovation, job opportunities, and positioning the country as a global manufacturing powerhouse.
Designer: Unknown
Website: www.makeinindia.com
Format: EPS – PNG
File Size: 71 kb